Small Cells Solution
Flexible RAN based on virtualization
Customers' Needs
The mobile networks by around 2020 (The Network 2020) will provide society, industries, and people with new values when it is integrated with ICT functionalities in a diversity of vertical industries. The requirements for the "Network 2020" are highly dependent on the use cases. Some of these requirements conflict with each other, and it may be difficult to fulfill them simultaneously. However, these use cases do not have to be fulfilled "anywhere and anytime". Therefore, the "Network 2020" is expected to realize a flexible architecture in which necessary functionalities and resources can be deployed to each network node on demand. These deployments need to be optimized in accordance with the use case and user context.
NEC's Offer
NEC provides a flexible RAN architecture by virtualization of RAN functions and virtualization of Cells.

Virtualization of RAN functions

Running baseband processing using virtual machines provisioned on commercial servers enable the switching network capacity and resources among cell sites with light traffic areas to regions experiencing heavy mobile traffic on demand. This enables efficient provisioning of computing resources for RAN functions and reduces TCO as the number of connected devices, the volume of traffic, and Quality of Service and Quality of Experience (QoS/QoE) required vary widely by time and place.
The DU reduces inter-cell interference by controlling the coordination between the relevant RUs in a centralized manner. This enables effective expansion of cell capacity even if a large number of RUs are densely deployed. Also, this type of coordination will be applied to access technologies other than 3GPP RAT, e.g. WLAN, and can realize seamless access between different technologies.

Virtualization of Cells

In cellular networks today, cell coverage of manage radio resource allocations is created around each geographical location of a radio antenna (i.e., site). In NEC's flexible RAN architecture, antenna sites will be virtualized as well as the digital baseband units. Creating cell coverage flexibly combining several virtual sites enables efficient provisioning of radio resources. This flexible architecture helps provide sufficient radio resources for user's services and improve the users' QoE even if communications traffic varies widely by time and place.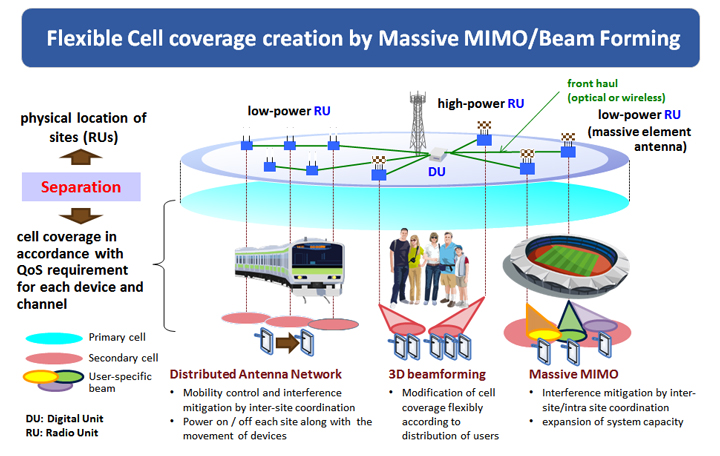 Customers' Benefits
User experience improvement

- Effective user throughput increase
- Mobility friendly radio connection management
- Provide sufficient radio resources for user's services.
- Improve the users' QoE even if communications traffic varies widely by time and place.

System capacity improvement

- Flexible cell coverage creation on-demand
- Multiple users accommodation simultaneously

TCO saving

- Efficient provisioning of computing and radio resources
Products